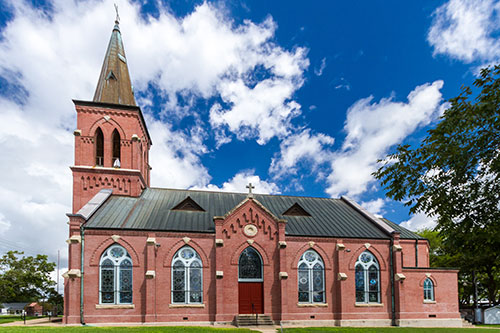 Why attend meetings at this Church where all the meetings are online?
Oh, there are quite a few reasons….
A lot of Churches have been having all their meetings online recently because of the Corona Virus pandemic. Government restrictions and voluntary restrictions (for the sake of people's health) have shifted a lot of meetings to being held online so by this time a lot of people are already used to it.
Some people may have never been to Church before and feel shy about going into one. A Pastor that I knew who was from Ghana used to talk to Americans living abroad (out on the street) about God and he said they would listen and be interested until he started talking about going to Church. Haha. So, there are people who might be interested in talking about God and spiritual things, but feel shy about going into an actual Church building. I would like to make All Nations Online Church a comfortable place for people who are not Christian to visit and check out and enjoy.
Some people are mostly or entirely 'housebound' for reasons other than the pandemic and this gives them an option for a full Christian Church life rather than just online worship service or just 1-2 kinds of meetings. Some Churches offer more kinds of meetings online, others only 1-2, and some not at all. This Church does everything online. All Nations Online Church gives such people a chance to live a more holistic Christian life even though they are housebound (or mostly housebound). It gives them a chance that they otherwise probably wouldn't have.
Some people live in places in their countries where they can access the internet, but there are no 'good quality' local Churches near them and some live in places where there are no local Churches around at all. It could be because Christian faith isn't well-spread where they live or it could be that they work in an isolated area. It could even be for another reason, but this Church gives such people a good opportunity to grow spiritually and get God's help right where they are. It also gives them a chance to pour into other people's spiritual lives once they have been attending for a while. We at All Nations Online Church can be a family that is emotionally close even if physically distant. As a person who has lived and worked aboard-I see a need for this.
Some people may not have been able to find a Church where they are satisfied or where they 'fit in' spiritually. Whether in person or online, they want to fit in somewhere and they might fit in here. I've been pretty clear about what I am like and what this Church is like and you can try attending and see how God moves you. You are welcome to visit or stay and become a part of this ministry.
Paul said by the Holy Spirit, "Night and day we pray most earnestly that we may see you again and supply what is lacking in your faith." (1 Thessalonians 3:10). Paul (and his coworkers) had in his (their) faith in God's words things that they were lacking in theirs-in the Thessalonian Church. My hope is that, the way that I and anyone else who preaches or teaches here may have in his or her faith (knowledge, practice, power of God's words) that those who join and listen previously lacked or need to be reminded of. That is also why I like to read books that were written by impressive Christians-so I can get supplied what is lacking in my own faith and share with others. We are not even close to the best ministry, but we are going to strive to do well and God will enable us. Currently I am starting this ministry as the only staff member, but I expect there to be more soon enough. I don't plan to be the only one preaching or teaching for too long. And I really need help from someone who has a better singing voice than I do.
This Church opens doors for people who live in different places to become friends, team up for the Lord, and work together to please God and do good works (Eph. 2:10) in this world as we grow spiritually together.
Feel free to email me if you have any questions or just want to say "hi". behappybefree202020@gmail.com (My name is Daniel)
By God's grace, after ministry training, I have been in positions of leadership in different Churches in different parts of the world, but now I am relying on God to start All Nations Online Church. I hope that some of you can help me serve God and people through this site. It's April 2021 as I type this.